Screens Shots (on TI92+):


- Main menu -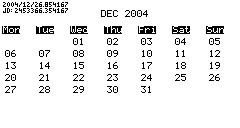 - Results -

---
Download Executables and Sources:
Click on the version number to download it
Latest developement version :

[0.06 Beta 2] in zip format (130Ko)
Latest stable version :
[-.--] Not released yet ;o)

---
Download Help file (English) :
[help.pdf] This Acrobat Reader file (325Ko) contain more informations
and screens shots to help you for using TIARE.

---
FAQ and short description (English AND French) :
[F A Q] This file contain some informations about the current version.

---
Download Ressources File for TIARE :
This functionnality will be activated with the first stable release !
[00/00/00] Upload this file to your calculator for specials objects or events.

---